02-06-15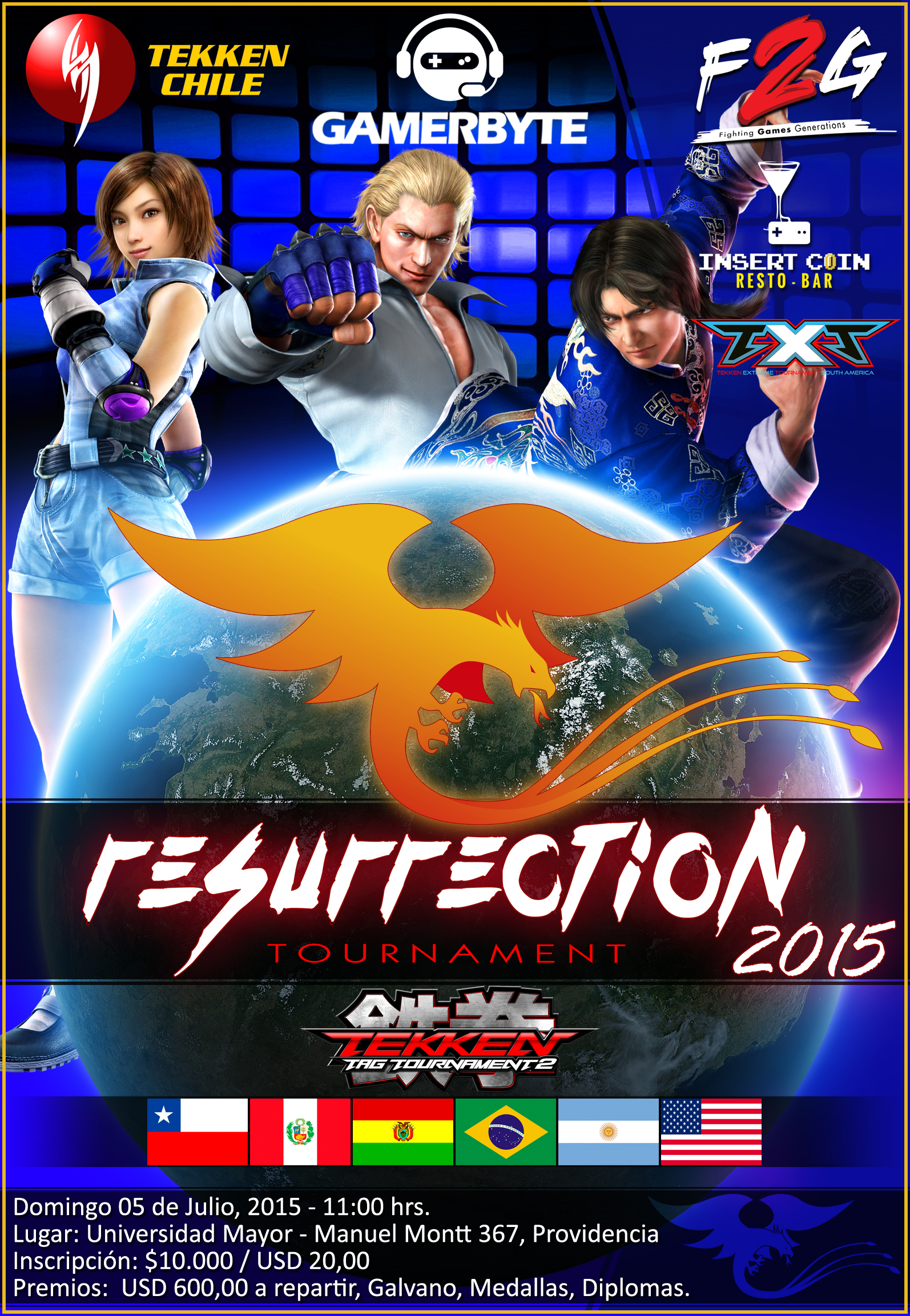 **Lista de Competidores Inscritos a la fecha, Click Aquí.
Fecha: Domingo 05 de Julio, 2015
Dirección: Manuel Montt 367, Providencia (Universidad Mayor)
Hora Inicio: 11:00 hrs.
Valor Inscripción: $10.000/USD 20,00
Premios
1er Lugar: USD 500,00 + Galvano + Medalla + Diploma
2do Lugar: USD 100,00 + Medalla + Diploma
3er Lugar: Premio Sorpresa + Medalla + Diploma

————————————————————-
INSCRIPCIONES:
David Gatica Vejar
Banco de Chile, Cta.Cte. 1550631504
Rut: 15339456-3
Comprobante: admin@tekkenchile.cl (agregar Nickname en el correo)
————————————————————-
Reglas del Torneo
Sistema: Bracket Doble Eliminación
Ganador: Al mejor de 5 peleas (FT3), lo mismo para los Round.
Configuración de Botones: Permitida
Round de Prueba: 1
Tiempo de espera: 5 Minutos por llamado, luego se dará como perdedor
Presionar Pausa: Quien presione Start entremedio de una pelea, se le dará por perdido el Round.
Quien presione al finalizar una pelea, al sacar pausa tiene que salir "K.O." a su favor, si no pierde el Round.
Plataforma: PlayStation 3
Monitores: Testeados sin Lag
Audio: Todos con audio independiente
Controles: Joypad PS3 con cable y sín batería, Joypad PS4 con cable, Arcade Stick
————————————————————-
List of registered participants, Click Here.
Date: July 5 2015
Registration Fee: USD 20,00 / cl$10.000
Awards
1st Place: USD 500,00 + Galvano + Medal + Diploma
2nd Place: USD 100,00 + Medal + Diploma
3rd Place: Surprise Gift + Medal + Diploma
Tournament Rules
Start Time: 11:00 hrs.
System: Double Elimination Bracket
Winner: FT3, same for the Round.
Button Configuration: Allowed
Test Round: 1
Standby time: 5 mins per call, then give a loser
Press Pause: Who therebetween press Start a fight, he forfeits the Round.
Who press at the end of a fight, to take pause has to leave "KO" in their favor, but loses Round.
Platform: PlayStation 3
Monitors: Tested without Lag
Audio: All with separate audio
Controls: Joypad PS3 wired and battery, PS4 Wired Joypad, Arcade Stick
————————————————————-
Grupo Oficial Facebook, Click Aquí.
Fan Page Oficial Facebook, Click Aquí.
Evento en Facebook, Click Aquí.


Atte.
Organización TekkenChile / Resurrection Tournament.

Fatal error: Uncaught Exception: 12: REST API is deprecated for versions v2.1 and higher (12) thrown in /home2/tekkenchile/public_html/wp-content/plugins/seo-facebook-comments/facebook/base_facebook.php on line 1273